Are you just discovering Microsoft Flow? Congratulations. It can make your work day far more efficient. We'll help you get started. But before you create your first Flow, an important question to ask is, What can I automate? More importantly, What should I automate?
This article will analyze the theory of work automation. Nail these contextual basics, and it will help you select high-value work to automate in Microsoft Flow.
Microsoft Flow was Built for YOU
This will be a recurring theme. It is one of the most critical points about Office 365: Microsoft Flow was not solely built with the technology team in mind. Like most of the other Office 365 tools, Flow was built for you.
In technology, we are entering "The Era of the Power User." While an IT department can build incredibly useful tools and applications with Office 365, Flow was built for the non-techie. For example, you may work in the Finance or HR department. You may not build technology for a living, but it makes sense to you. Maybe you are the person people come to for advanced Excel formulas or for Access database help. Maybe you've already found ways to simplify tasks and processes within your group.
Flow is for you. You don't have to write code to automate your work day. You just drag and drop your way there.
More Work to Do Than Hours to Do It!
Your day is filled with more tasks and work than you can finish. Some of that work adds real value, and some does not. Some work requires your specific set of skills and abilities to complete, while other work might not provide much value at all. In some cases, you might work on tasks that, while valuable, end up being a complete waste of your time.
When it comes to work, you can choose to do one of these things:
Do It
Delegate It
Don't Do It
Automate It
Many books and articles discuss how to prioritize and organize work that fits into items 1-3, so we won't cover that here. But the reason these ideas are so critical is because, to understand how best to use Flow, we need to explore what part of our workday could be made easier if it was automated.
Value and Expertise
One way of deciding what work should be automated is by evaluating its value versus the expertise needed to complete it. The more dependent work is on your specific skills or training, the more likely it is that you will personally need to complete it. But what if a high-expertise task provides very little value? Should you consider automating it? Should you even complete it at all?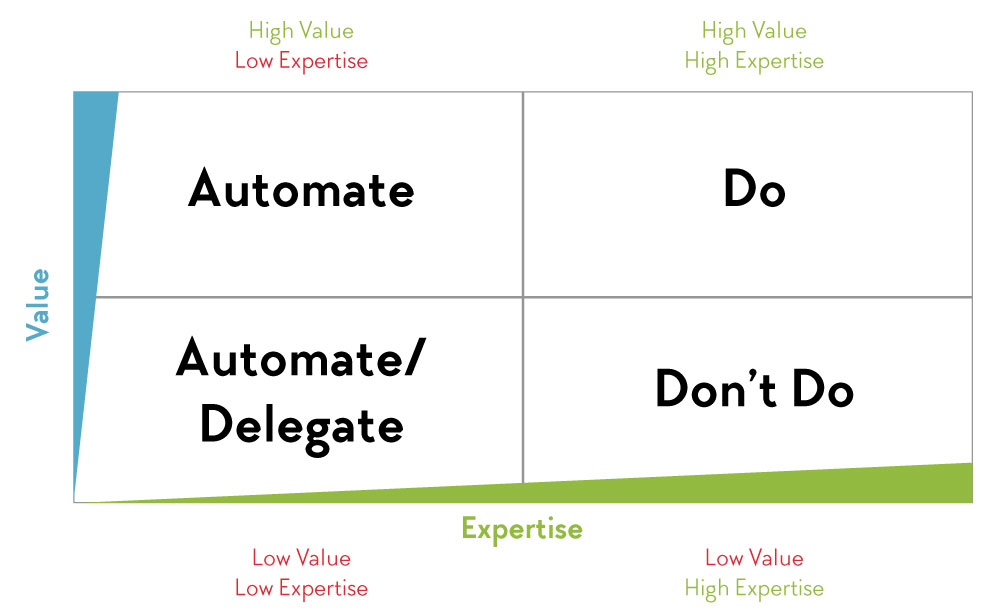 For the purposes of identifying work candidates for automation, the above chart shows four ways that work can be categorized:
High Value, High Expertise – Work that adds significant value toward an objective and requires your experience, skills, and training to complete. You, or someone equally skilled, must complete this work. High expertise tasks might be less black and white in how a problem is solved, and because they require more brain power or nuance, the effort to automate them is usually too great.
High Value, Low Expertise – Work that adds significant value, but does not necessarily require your special skillset to complete. This type of work is prime for automation.
Low Value, High Expertise – Work that adds little to no value but requires significant skill to complete. Do not invest too much time in this type of work.
Low Value, Low Expertise – Work that adds little to no value and does not require great skill to complete. This work can either be delegated or depending on its value, automated as a lower priority.
Work That is Made for Automation
When you work with Flow, you are looking for things you do routinely that fit in the second option—high value work that doesn't need you to complete it. Often, this bucket of work ends up taking a significant amount of your day. This tends to be repetitive busy work.
For example, a document approval process for files can add a significant amount of value to a team. But chasing those approvals, sifting through emails, and tracking document versions is a monumental waste of your time. Similarly, coordinating the complexities of a new employee onboarding process can streamline hiring and make new employees more productive sooner. But having to babysit that process is about as pleasant as a root canal, especially with different departments and various systems in play. And while it's always an option to delegate high value, low expertise work to an employee or an intern, their time is valuable and finite as well, and automating these types of tasks frees them up to work on even more important things.
What Can I Automate?
To further illustrate the point, let's breakdown some common areas where Flow really shines. You might be surprised by how extremely easy they are to create: 
Working with Email Attachments
As an Account Manager, I need attachments to be automatically saved into the correct client SharePoint document library when I receive an email from them, so that I don't have to sift through emails to find them.
Flow makes it very easy to work with emails, email attachments, and SharePoint lists.
Time-Off Requests
As an Employee, I need an automated approval request to be sent to my boss when I ask time off—and then receive a notification of their response—so that both of us can keep track and manage my time off throughout the year.
A time-off request process is a perfect starter Flow to work on. It's not complicated, but it touches many of the basic Flow Actions for routine work.
Document Approvals
As a Project Manager, I need every critical project document to complete an approval process before it can be published, so that I do not have to chase multiple approvals or advance to the next phase prematurely. I also need to be notified by email and text message when approvals are completed.
Approval processes are some of the most common candidates for automation because of how easy it is to notify participants and create simple or complex steps.
Mobile Notifications
As a Traveling Account Executive, I deal with high profile clients. I'm also away from my PC quite a bit and on my phone. I need to receive a phone notification when I receive emails from clients I deem as VIP, so that I do not miss their email and can respond immediately.
Office 365 generally is built to be device-agnostic. You can create Flows that target phones and tablets just as easily as those you might create for PC and Mac users.
SharePoint Notifications
As a Coordinator, I need notifications and emails sent to my staff whenever new entries are made into one of the SharePoint lists I use to manage the team, so that everyone is immediately aware of updates and new information.
Flow and SharePoint work together seamlessly. If you already work with SharePoint sites, lists, or document libraries, adding Flow will open up a world of possibilities. 
Data Processing
As a Sales Manager, I need rows to be automatically extracted from sales spreadsheets when they are emailed to me weekly, and the results entered into a team SharePoint list, so that I can easily track sales information without having to sift through numerous spreadsheets.
Once you understand the basic Actions and Triggers within Flow, the next step might be to explore how you can send data into your Flow, analyze it, and then output your results to lists, databases, or other systems.
3rd Party Integrations
As a Social Media Manager, I need to routinely and automatically collect Twitter Tweets with our company hashtag and store them in SharePoint lists, so that I can generate reports based on that information.
Reminders
As a Team Member, I need automated reminders for tasks and pending approvals, so my team and I don't have to chase these every day. Since Flow integrates with SharePoint, Teams, Project, and other solutions, tracking my tasks and creating reminders is easy to do and saves time.
When using Microsoft Flow, the goal is to pick work that adds value, clutters your work day, and doesn't require your specific expertise to complete. If you spend time automating low-value work, no one will notice, and adoption will be harder. But if you can demonstrate that you or your team's work days are much more productive because you've automated high value work, that's when Flow begins to change the game for teams and companies.
Stay tuned for the first in the series of Microsoft Flow "how to's." And read more about the Office 365 suite of tools here.