What Are Portfolios and Roadmaps?
Wouldn't life be easier if you could predict the future? You could plan for issues before they arise and see where you're going well in advance. You could even think of better ways to reach your goals. Roadmaps and Portfolios in Clarity 15.6 can take you closer to that reality, with features that allow for cross-collaboration, brainstorming and idea tracking, and support for budgets and investments.
In this post, we'll talk about the benefits of each and how to get the most out of the one you choose to utilize when you upgrade to Clarity 15.6.
Hands-on Creative Collaboration

You probably have experience using the Portfolios feature in Classic Clarity. Portfolios are a great PPM tool—built with extensive functionality and self-contained for your day-to-day planning—and there's also a significant learning curve to using them.
Roadmaps, on the other hand, have given project planning a fresh spin in the Modern UX. They appeared with version 15.4. Roadmaps support a comprehensive project planning phase. This serves as a 'whiteboard' where you can brainstorm with colleagues. Incorporating Roadmaps into your strategic planning will get creative juices flowing and help you bring stakeholders into the conversation, leading to better solutions.
Roadmaps can be used for all kinds of applications, including Investment Planning, Architectural Planning, Strategic Planning, Product Releases, and even Marketing. Whenever you've got a task you need to drive from a top-down approach, Roadmaps are a good fit. They also respond well to adjustments you might have to make over the life of a project, like new market opportunities or threats.
What's Available: General
Both Roadmaps and Portfolios allow you to include ideas, projects, and other investments by name and OBS. Both allow you to sync Investment data, including financials, dates, and availability. Portfolios can sync investment data from all fields—both OOTB and custom—and beginning in 15.6 custom attributes can also be synced into Roadmaps.
Roadmaps in Clarity 15.6 have been updated to account for custom investments and also allow you to manually add data that doesn't exist elsewhere in Clarity. Portfolios still retain the distinct advantage of including programs and NPIOs (Non-Project Investment Objects) like FMLA and vacation time, and Portfolios offer the option to schedule a sync of included items, instead of having to manually sync investment data for updates. For a closer look at the differences between the most current versions, check out this chart:
*Checkmarks indicate that a feature is included in each update, from Classic to 15.6. Where distinct advantages exist between Portfolios and Roadmaps, a green highlight has been added. 
What's Available: Analysis

When it comes to analyzing your data, both Portfolios and Roadmaps offer many of the same features, including target setting, delineation between targets and goals, waterlining, creating and saving scenarios, and more. They both also offer timeline and grid views.
Portfolios contain ranking rules, analysis by role, and OOTB data reporting via portlets and reports, which isn't exactly matched by Roadmaps—though they do offer sorting and ordering options of their own. Roadmaps support analysis using fiscal time periods, view and scenario creation, a built-in board view, and coloring to help you group and analyze data. Consistent grid views now create a seamless user experience.
Roadmap views can be tailored to fit only the attributes you want to display, including custom attributes.
Here's a thorough overview of the analysis features in each: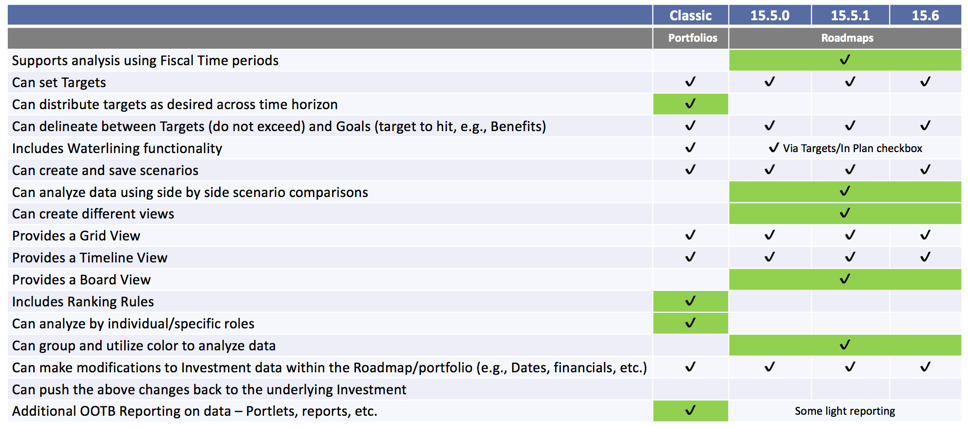 *Checkmarks indicate that a feature is included in each update, from Classic to 15.6. Where distinct advantages exist between Portfolios and Roadmaps, a green highlight has been added. 
Putting It All Together

Ultimately, the decision to use Portfolios or Roadmaps should be based on your own needs. It's important, however, to note that Roadmaps will continue to be enhanced in future Clarity releases and Portfolios will not. Once you get up and running with Roadmaps, we think you'll find that they offer significant project planning advantages that allow for greater collaboration and creativity.

Have a question about project planning? Tell us about it in the comments.
Planning an upgrade? Take the burden off your internal support team. We average one upgrade every three days and use upgrades to connect with end users, provide training, and introduce quick wins. It's the perfect opportunity to revitalize your environment. Let us know how we can help with your upgrade here.
Let Rego Be Your Guide
Rego also offers free configuration and adoptions assessments, webinars, and half-day training classes for Clarity.
For a full list of Clarity Services, visit regoconsulting.com.