These days, business agility is more important than ever, and implementing Agile methodologies is a great way to achieve that. But the sheer number of available Agile solutions can be overwhelming. So how do you choose? What makes an Agile solution, "good?"
The short answer is "a lot of things." Just as there are numerous Agile methodologies, so too are there countless of Agile solutions. When choosing an Agile solution, it's essential to find one that enables strategic alignment and is the best fit for your organization.
Rego is proud to hold Broadcom's prestigious Tier One Partner status for Clarity PPM and Rally Agile Software®. Our SAFe-certified expert guides have helped thousands of clients implement Rally.
Rally Software® is renowned for its ability to support Agile team autonomy while maintaining organizational alignment. More than one thousand leading companies use Rally Software® to support business agility. It's a premier Agile tool, and no matter the size of your company, there is no barrier to entry.
Read on to see why we love Rally software.
Reason #1: You Can Get Rally for Free
No, that wasn't a typo. The Rally Starter Edition from Broadcom is completely free of charge.
Rally Starter Edition Features Include:
50 Named Users of Rally (forever)
Agile Portfolio Management Roadmap Planning and Tracking
Capacity Planning
Program Tracking
Flow-Based Boards
Quality Management
If you are looking for a free opportunity to implement Agile with an industry-proven software suite, the Rally Starter Edition is an excellent choice. The Starter Edition supports a team of up to 50 named users and covers most digital product initiatives.
Rego's SAFe-certified expert guides will introduce quick-wins and ensure long-term success with our Rally Up Quick-Start Package for Rally.
Looking for a custom solution? Let Rego design a package that fits your budget and needs.
Reason #2: Rally is a Flexible Solution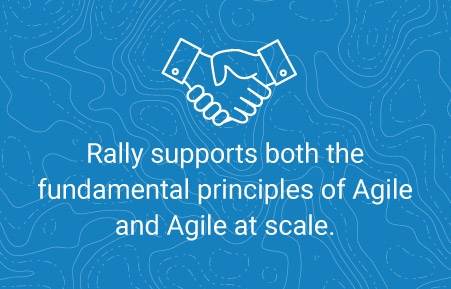 Rally is a flexible and scalable solution that's made to fit any brand of Agile–and any kind of team. It supports both the fundamental principles of Agile and Agile at scale.
Does your organization use a Top Down approach, Bottom Up approach–or perhaps a blend of both? Rally is designed to support both methods, which means your organization can ensure the best long-term success for all Agile teams.
Reason #3: It's Easy to Get Started with Rally
Rally is simple to set up. It can be fully configured, including SAFe, all key Agile fundamentals, and user training, in a matter of days.
Our certified experts (SAFe, Scrum, Kanban) have years of leadership experience supervising agile transformations­–both large and small. We'll help you start strong with our end-to-end services.
We leverage a robust library of pre-built materials, reports, architectural templates, and deployment artifacts to reduce the cost of engagement.
Rego and Rally Will Help You Achieve Business Agility
Rally is a great option, whether you're new to Agile methodologies or thinking about a change to a different Agile solution.
When you choose Rally software from Rego Consulting, you'll obtain a practical and tactical approach to Agile implementation and transformation.
Rego's end-to-end Rally Software® implementations create a foundation to transform your organization's long-range goals with fine-tuned outcomes and key results.
Pick and choose from our countless out-of-the-box integrations, or let us create a custom solution specific to your needs.
Let Rego Be Your Guide
At Rego, we understand that Agile doesn't exist in a vacuum. That's why we recommend an evolutionary approach to implementing Agile solutions and methodologies. Our expert guides can guide your teams to successful outcomes through our Agile Coaching, Agile Transformation, Agile Program Management, and Agile Workshops.