Does your organization have trouble understanding project spending and the value being delivered? With more pressure on budgets than ever, many organizations are linking Clarity PPM and financial management for greater visibility as they track project financial health with reliable reporting. But getting started is not as easy as toggling a preference button. Successful financial management takes solid planning and preparation.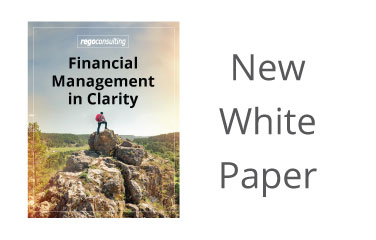 Rego Consulting recently released a new white paper, Financial Management in Clarity that reviews six key insights for introducing financial management in Clarity PPM. This white paper is the result of thousands of hours spent guiding customers in linking their project management work with financial management. In looking at these engagements, we found these six insights and the accompanying best practices for each insight. The full white paper can be downloaded here.
The six insights are
Start Simply—use information that builds upon itself as you progress and avoid the temptation to add more attributes than you need to start.
Work Backwards—or in other words, "begin with the end in mind," and make sure you are leverage the good data and reports that you already have.
Don't Confuse System Purposes—Clarity PPM is a very strong system for project financials but is not and should not be your organization's financial system of record.
Involve the Finance Team—make sure you involve a finance stakeholder and look to their insights about key financial attributes that are important to the company.
Consider Practical Integrations—look for ways to increase efficiency and to reduce redundancy and manual data entry which can oftentimes be done through a Clarity system integration.
Prepare Components Before You Begin—successful project financial management is built on a thoughtful roadmap and having key components such as core financial information, rate matrices, and budget plans in place before you start.
Adding financial management capabilities is a natural step in your organizations PPM maturity journey. When done correctly, project financial management in Clarity can bring significant value to your organization.
For your free copy of the full white paper, Financial Management in Clarity, click below.
Let Rego Be Your Guide
Rego also offers free health assessments, webinars, and half-day training classes for Clarity PPM on Roadmaps in the Modern UX, Power BI, Portfolio Management, and Jaspersoft.
For a full list of Clarity Services, visit regoconsulting.com.