Rego Consulting is the largest and most highly referenced reseller of Clarity PPM — guiding 40% of Fortune 100 Companies and 60% of Fortune 20 Companies. With 350 clients representing more than 50% of the major Clarity PPM users, Rego stands apart for five key reasons.
5 Key Reasons to Buy PPM Software from Rego
Highest Customer Satisfaction Ratings
Competitive Clarity PPM Software Pricing Comes Bundled with the RegoXchange Clarity Library
Our Close Partnership with Broadcom Delivers You Direct Value and Easy Renewal
Rego Guides are Expert PPM Guides Who Know Proven Best Practices
We Help Maximize Your Investment in Clarity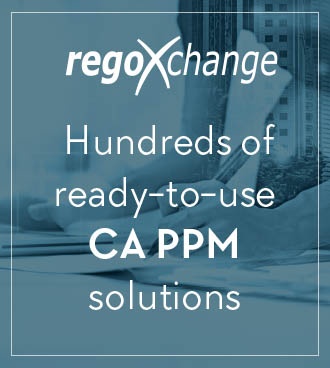 Rego's Clarity PPM software comes competitively priced with higher-value implementations. Our expert guides are heavily seasoned and invested in your satisfaction — they want to maximize your ROI.
And when you choose Rego, you'll get access to the RegoXchange Clarity PPM Library—$40k worth of informational resources, as well as all the benefits of our close relationship with Broadcom.
Read our free white paper to get more details on buying PPM software from Rego and find out why CIO Bulletin Magazine named Rego Consulting among the "Most Innovative Companies of 2018".
Or, contact us today and talk to someone about buying Clarity PPM software for your business.
Send us an email:
info@regoconsulting.com
Or give us a call:
888.813.0444
Interested in Buying Rally Software®?
Ask us about our discount on Rally Software® (formerly Agile Central) software. Buy from us before Jan 1, 2019 and you can save $233,280 over three years.
Let Rego Be Your Guide
Join us live and in-person at RegoUniversity–sponsored by Broadcom–in San Diego Sept 29-Oct 2 and learn from the expert guides who deliver Clarity PPM and Agile services to 60% of Fortune 20 companies.
Rego also offers free health assessments, webinars, and half-day training classes for Clarity PPM on Roadmaps in the Modern UX, Power BI, Portfolio Management, and Jaspersoft.
For a full list of Clarity Services, visit regoconsulting.com. See why Rego stands apart.
Rego Drives Clarity PPM Innovation
As industry leaders, we've refined best practices in PPM for over a decade, across every industry. That's why 60% of Fortune 20 and 40% of Fortune 100 companies trust us to optimize and support their end-to-end Clarity services. If you're looking for Clarity implementation guidance, training, or support, reach out to our Clarity consultants today. We'll help you gain measurable ROI from your investment while driving down the cost of implementation, development, and support.
Rego would be delighted to show you how we can meet your Clarity consulting needs. Contact us for a free health assessment or demo today, and be sure to join our mailing list below.