What is Workfront Fusion?
It's a universal truth: switching between applications is a massive waste of time. Even with multiple monitors and cut and paste, it's downright exasperating.
Workfront understands this frustration, which is why they developed a code-free integration platform designed for those of us who aren't skilled programmers but still want the same functionality extensions available to those who are. Workfront Fusion facilitates the development of automated functionality for Software as a service (SaaS) applications – without a computer science degree. Fusion acts as the connective "tissue" between applications that could not otherwise communicate.
Why Would I Integrate My SaaS Apps?
So, what's the benefit of integrating applications?
The average employee must switch between multiple applications throughout a day to complete a specific process. According to RingCentral's research, most employees spend at least 60 minutes a day toggling between apps, which equates to more than a month every year. For businesses, that's billions of dollars of lost productivity annually.
Integrations reduce waste in business processes, improve quality and overall user experience, create data consistency, and increase visibility. They also reduce the time spent on the manual entry required to execute a business process. Finally, integrations improve quality by preventing potential errors associated with manual entry.
What Makes Workfront Fusion Different?
There are a lot of code-free integration platforms on the market. So, what makes Workfront Fusion different?
Code-free: Create code-free integrations with Fusion's simple drag-and-drop functionality.
Thousands of choices: Choose from thousands of business applications, with both pre-built and generic connectors (HTTP/SOAP, JSON, SMTP, FTP/SFTP) based on integration best practices.
Pre-built templates: Take advantage of Workfront pre-built templates or customize them to meet your needs.
Seamless integrations: Workfront Fusion creates seamless integrations and includes extensive feature support. From simple integrations to complex workflows, Fusion fills application gaps with end-to-end processes.
What's New in Fusion?
Workfront released a significant update to Fusion in July of 2020; the update is called Fusion 2.0. While Fusion 2.0 and Legacy Fusion possess the same value proposition for customers – code-free SaaS integrations – Fusion 2.0 includes several significant improvements.
Performance
Fusion 2.0 is architecturally more efficient. It addresses known issues with Legacy Fusion, including the processing of large lists. Customers will find that integrations with iterative loops complete faster. Additionally, Workfront promises that the whole platform is more robust and reliable from a quality and performance standpoint.
Streamlined Interface
Fusion's updated design interface enhances the user experience. Space is used more efficiently in the design canvas, which helps users understand the integration quickly and intuitively by reducing the steps required for an integration, as illustrated below.
The screenshots below show the same integration in Legacy Fusion and Fusion 2.0.
Figure 1: Legacy Fusion Integration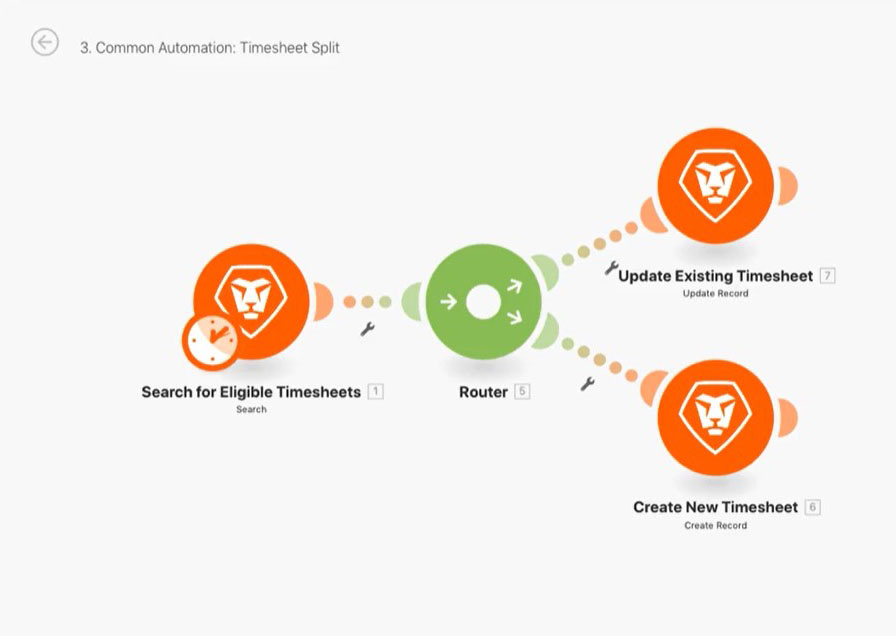 Figure 2: Fusion 2.0 Integration
Fusion 2.0 uses a powerful formula editor embedded in each module, which consolidates steps and transforms data required for future actions.
The universal connectors that connect to virtually any public application programming interface (API) are easier to use, especially when configuring authentication to an application.
Fusion 2.0 possesses better tools for handling JSON and XML data structures within a scenario.
Users now have the option of using templates to create integrations. In Legacy Fusion, users had to begin from scratch.
Troubleshooting and Support
Workfront's new version history functionality simplifies troubleshooting; no version history was available in Legacy Fusion. With Fusion 2.0, users can see old versions of the scenario and revert to a previous state. Moreover, when viewing prior executions, users can view the design's state when the scenario was executed, not merely the design's current version. Fusion 2.0 is much more transparent with the way data comes in and out of Fusion and within each step of a scenario, making troubleshooting much more straightforward.