Smartsheet Integrations, Training, and Consulting
Smartsheet is a powerful investment. Drive more speed-to-value with Rego's world-class training, consulting, and integrations. Support your project management, human resources, marketing, and sales teams in moving ideas to impact, fast.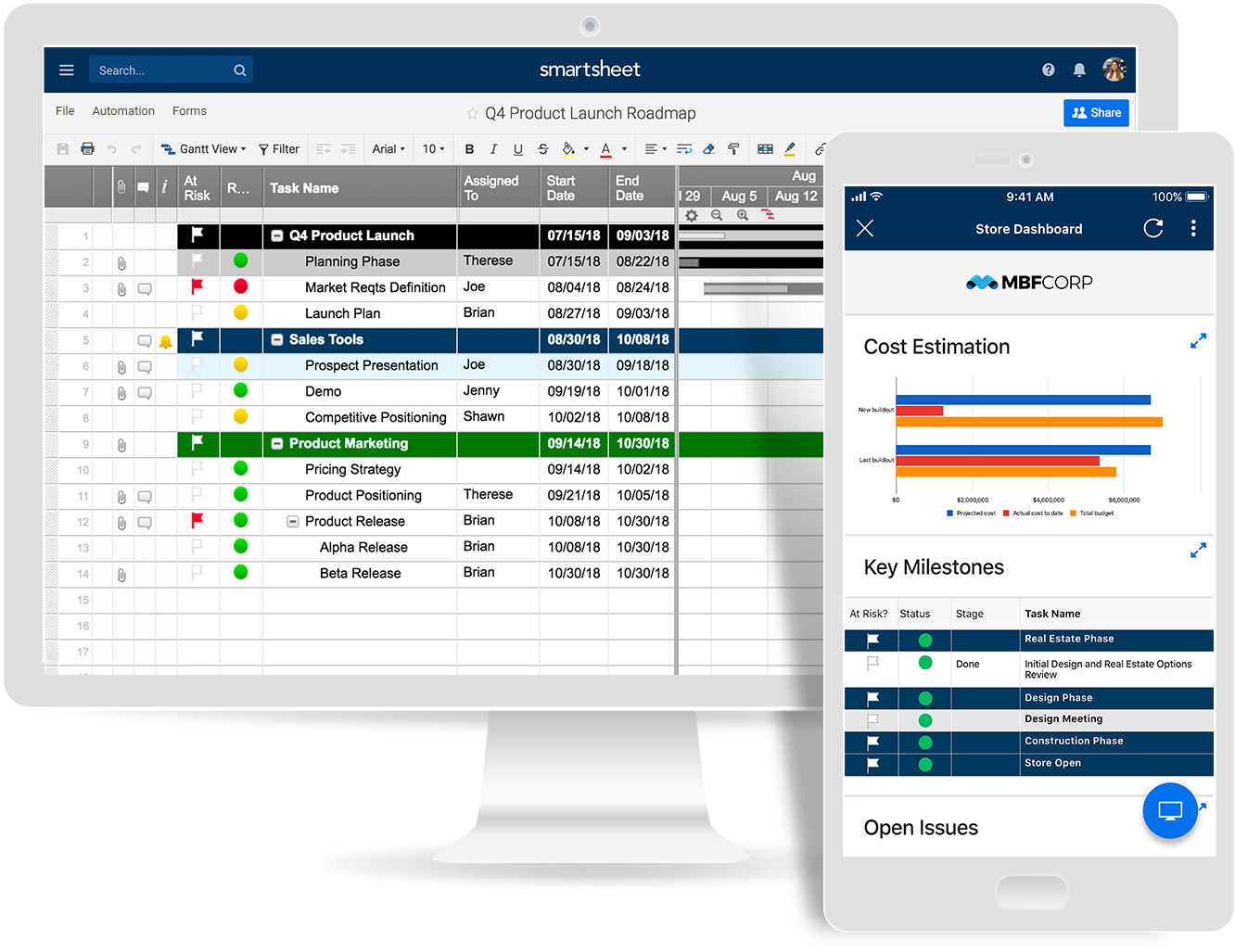 Why Rego for Smartsheet?
Rego Guides are Project and Portfolio Management experts who have worked on the ground in IT leadership as Smartsheet implementers and administrators for small companies, as well as for large enterprises with thousands of users in worldwide territories and different markets. As expert practitioners we use ALL the tools and will help you pull them together with Smartsheet for a simplified end user experience.
Built a whole portfolio management charter with Rego as part of the contract process.
I can't say enough about Rego. Everyone from our executives to our team members are aligned and having success in the tool because of them.
A huge thanks to you both for your help and guidance! In 40 years of working with other companies and consultants, this has been one of the most positive and constructive working arrangements I've had. Your demonstration, day in and day out, of your genuine interest in our success has been welcome and much appreciated. Thank you! It's been a true pleasure working with you!
I just wanted to drop you both a quick note to thank you for the time and energy you put into completing the PPM Assessment for us. The information you provided us in the Executive Summary and other supporting documents achieved our goals. Thank you again for all of your work – it is very much appreciated.
It is clear that the Rego team members are great friends—like family, makes me feel good to be around people who care about each other. Wish we could do events as well as this.
Screens that took more than 20-30 sec to show up now take very few sec (2-4 sec). This is awesome and dramatically impacts the user experience.
Rego assists us with integrations, upgrades and other various items as needed. The quality of resources Rego has hired fits our needs and we will continue to use Rego as our PPM partner.
Resources we had assigned to us were very knowledgeable, responsive and helpful. We had numerous sessions which they attended to help us thru our upgrade activities across each of our environments culminating with our product deployment over the course of a Saturday. Any issues that were identified, were reviewed and resolved in a timely manner and communication was good throughout the process.
Ramesh solved our problem this morning and it is a big relief. His knowledge and your stepping up reflects the expertise and professionalism we have experience with Rego over these many years.
Digital Ecosystem Assessment
Drive Digital Transformation with People, Process, and Tools.
Rego can help you create a thriving environment. We understand an interconnected ecosystem is essential to drive digital transformation and will assess your current technology stack to determine if optimization is required.
Do you have the right ecosystem components yet lack an interconnected end-to-end solution?
Are your applications getting in the way of an optimized business process?
Do you need a strategic roadmap and phased execution plan that includes people, process, and tools?
Rego's experts will discover opportunities to optimize the value of your digital ecosystem with a proven assessment approach. Contact us for a FREE assessment.
Stay Productive with the Most Recent Version
Upgrades should not create stress for your internal support team or resources. We use upgrades to connect with end-users, provide training, and drive project momentum. Our proven approach gives you the rapid ROI and end-user adoption you need to be successful.
Value to You:
Unmatched expertise–work with senior expert guides who have extensive experience in Smartsheet

Options—start fresh or upgrade your existing environment

Training and support to optimize your investment

Start with the basics, grow maturity within your organization, and move into more complex Smartsheet solutions

Start with a simple, single department roll-out of Smartsheet and move to fully integrated project/program/portfolio dashboards

Use Smartsheet for all your document storage with simple tagging to make finding documents quick and easy
Smartsheet Guides for Every Industry.
Rego Guides are Smartsheet deployment experts. With deep experience as practitioners and consultants, we speak to the business needs of every industry and will improve the return on your investment. Take your company to the next level in productivity and project management maturity by utilizing the power of Smartsheet.
With best practices and a value-driven approach, Rego can provide advisory and technical consulting oriented to your organizational needs. Whether you need professional help desk support, staff augmentation, premium app implementation, or a full blown Control Center development and execution, Rego can provide all of that and more.
We give clients unmatched technical and functional expertise at service costs that are 20% to 40% less than our competitors.
Clarity to Smartsheet Integrations
Increase your PPM Flexibility and Productivity.
Do you need the flexibility of Smartsheet while you leverage the strength of Clarity PPM? Are you concerned about data accuracy and insights?
Combine the power of Smartsheet and Clarity PPM with the RegoLink Smartsheet Integration. Boost performance and improve insights by implementing this powerful solution.
Value to You:
Allows project managers to execute project plans in the tool of their choice.

Utilize the user-friendly nature of Smartsheet's dashboarding for ad hoc reporting.

Use the powerful collaboration features of Smartsheet but continue to govern your data in Clarity PPM.
ServiceNow to Smartsheet Integrations
Manage Your ServiceNow Projects in Smartsheet.
Would you like to manage the day-to-day details of your projects in Smartsheet, and synchronize critical project data in ServiceNow for governance and reporting?
The Smartsheet for ServiceNow Integration is the ideal way to leverage Smartsheet's incredible flexibility, so your key stakeholders always have visibility into project status.
Value to You:
Initiate projects in ServiceNow, and manage projects in Smartsheet using the power of reports and dashboards

Use ServiceNow as your Smartsheet repository

Employ the collaborative power of Smartsheet and extend sharing capabilities outside of ServiceNow

Map custom fields from ServiceNow to Smartsheet
Ensure Successful End-User Adoption.
Rego specializes in developing and delivering Smartsheet training and Organizational Change Management (OCM). Our solution-based training approach enables your users and increases enterprise efficiency.
Value to You:
Choice of onsite or virtual training options
Custom, solution-based courses
Suite of standard technical and functional courses
Senior consultants who provide best practice guidance
Facilitates business continuity and successful end-user adoption
Helps your team align with new PPM solutions and strategies
Flexible, collaborative approach
Our team provides dedicated training sessions for various types of organizational users, ensuring adoption and decreasing the challenges of using new technologies. Contact us for more information.